Shopping Heaven In Munich Germany
A mixed bag of activity was on the menu for today everything from city shopping and christmas markets to an international football match in the Allianz Arena in Munich, Germany.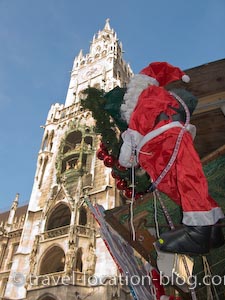 The Rathaus and Glockenspiel seen from the Marienplatz Christkindlmarkt, Munich.
December 19, 07:
Rolf decided he wanted to take me shopping in Munich for clothes - his christmas gift to me this year. Given the time of year, there were also the christmas markets in the Marienplatz which we wanted to see, and last but not least we'd been sponsored tickets to the Allianz Arena to watch an international football game between FC Bayern and Greece. So our day was looking fairly full but in a leisurely kind of way.
We formulated a plan to drive to Froettmaning, over half way to Munich from Freising, park the car at the train station, then take the train into the city for the shopping session and christmas markets, then we'd return to the car via train, switch clothes for the upcoming icy evening then take the train to the arena.
We set off from Freising at 10:00am and made the transportation switch in Froettmaning as planned then continued on to Munich for a spot of retail therapy - mmmmmmmm retail therapy, that's sweet music to my ears!
The commuter train unloaded us in downtown Munich, and the minute we stepped off the tracks the shopping adventure begun. Munich is a shopper's paradise and offers an array of alluring shops - from charming boutiques to creative gift stores. The only question is ... where do we start??
Our first target was a small branch of the most amazing book store in Germany called Hugendubel. The branch we visited, which is located on Salvatorplatz, is dedicated to providing books for those of the 'English' speaking persuasion. A few blocks away in the Marienplatz is a branch which covers 5 levels of a building - I'd be in book heaven if I could only read in German!
With our book shopping done, the fun really begun - it turns out that Rolf has real flair for picking out trendy clothes - so he was a fun shopping companion. In between clothing and shoe stores, we stopped to browse through the christmas Markets in the Marienplatz and enjoyed a few tasty treats along the way including the usual obligatory gluehwein which as the name suggests, puts a nice glow into the cheeks and nose.
By 4pm it was time to start back towards the train station and change from our shopping attire to much warmer clothes suitable for sitting in a football arena! To be continued .....
These travel blog entries related to Shopping Heaven In Munich Germany may interest you too:
Title:
Shopping Heaven In Munich Germany
A mixed bag of activity was on the menu for today everything from city shopping and christmas markets to an international football match in the Allianz Arena in Munich, Germany.
Author:
Michelle Coats
Date:
img_0128
Newest travel blog entries:
Press "Ctrl+D" to bookmark this page.
Please use this Code to link to this page (copy/paste):