Sunset From The Wing Tips Over Lake Superior
Commonly seen with ocean like waves on its surface, Lake Superior was flat calm during our sunset flight.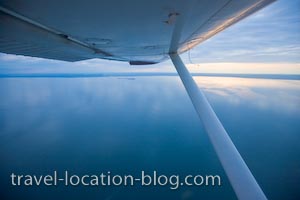 Picture of sunset over Lake Superior on a
calm evening, Ontario, Canada.
June 8, 2008 - cont'd:
As organised, we headed back out to the airport and took to the air again for another flight - this time straight over to Sleeping Giant Provincial Park.
Sleeping Giant gets its name from the fact that from the city of Thunder Bay the high cliffs of Sibley Peninsula resemble the figure of a giant lying on his back.
We were in the air circling over the steep cliffs of the Sleeping Giant for some time waiting for the sun to appear from behind a thick band of clouds on the horizon and cast its golden hues onto the cliff face. Unfortunately, it never made its grand appearance and settled on leaving us with a line of soft hues on the horizon - in the opposite direction to the Sleeping Giant. You win some and you lose some - this evening wasn't to be our night for colours on the Giant, so we returned to the Thunder Bay airport. Perhaps there'll be an opportunity tomorrow night??
These travel blog entries related to Sunset From The Wing Tips Over Lake Superior may interest you too:
Title:
Sunset From The Wing Tips Over Lake Superior
Commonly seen with ocean like waves on its surface, Lake Superior was flat calm during our sunset flight.
Author:
Michelle Coats
Date:
cdn_22v_16684
Newest travel blog entries:
Press "Ctrl+D" to bookmark this page.
Please use this Code to link to this page (copy/paste):