Time To Pack Up And Store The Camper In Ontario
Our truck and camper have a few months of rest now as they're put into storage in Ontario for the winter months.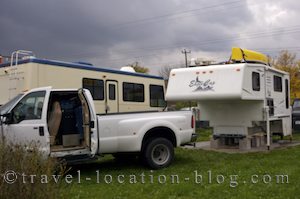 Picture of the Hicker camper being prepared
for winter storage in Ontario, Canada.
October 20, 2007:
Today we checked out of the Carriage Ridge Resort after finishing up the book keeping, working on images, winterising the camper and truck, and getting ready for Churchill. It's been two weeks of having our noses on the computer screens constantly - time had been of the essence!
Today we delivered the camper to storage. We've sat her on concrete blocks, covered up all the holes so that critters can't get in to make their home during winter ... it was hard to imagine that in a month or so, she'd be covered in snow. We closed and locked the door for the last time this year and hoped that we'd thought of everything possible to keep it and our belongings safe while it endured the winter.
Tonight we were staying out near the Toronto airport as tomorrow evening we were due to fly to Winnipeg then onto Churchill the following day. New adventures were awaiting. This was the end of Part One of our Honeymoon Canada production, and hey ... we'd survived it!! Living six months in a camper and discovering new things nearly every day. Part two is Churchill, we won't be in the camper in Churchill, so we consider it as a different phase of our Honeymoon Canada production.
These travel blog entries related to Time To Pack Up And Store The Camper In Ontario may interest you too:
Title:
Time To Pack Up And Store The Camper In Ontario
Our truck and camper have a few months of rest now as they're put into storage in Ontario for the winter months.
Author:
Michelle Coats
Date:
cdn_k3s33736
Newest travel blog entries:
Press "Ctrl+D" to bookmark this page.
Please use this Code to link to this page (copy/paste):