Touring Vienna Austria
An entertaining tour through the city of Vienna, Austria to see elaborate architecture and buskers.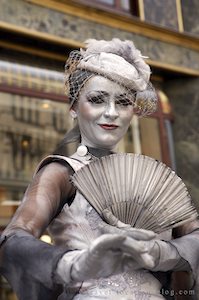 Photo of a painted woman busker
in Vienna, Austria.
We drove from Hinterbruhl to the city centre about 20-30 minutes away and found parking at the Staatsoper (Vienna Opera House), which was built between 1861-1869. The Staatsoper has a world famous reputation for featuring first class operas.
The walking route we chose is a circuit of the main sights, so we set off from the Staatsoper down the famous Karntnerstrasse, a pedestrian only street full of cafes and shops. We find our way to the Stephans Platz a bustling square, which is the location of the Stephansdom Cathedral. The square was full of buskers: an accordian player, a Leierkasten mann (man playing historical music box), and a silver painted lady who stood on a pedestal attracting a crowd!
Virtually everywhere you look there is something entertaining to attract your attention whether it be buskers, yummy gelato stands, or stunning architecture.
Painted Woman busking in Graben Square in downtown Vienna, Austria, Europe
These travel blog entries related to Touring Vienna Austria may interest you too:
Title:
Touring Vienna Austria
An entertaining tour through the city of Vienna, Austria to see elaborate architecture and buskers.
Author:
Michelle Coats
Date:
23.04.06 - Touring Vienna Austria w4215
Newest travel blog entries:
Press "Ctrl+D" to bookmark this page.
Please use this Code to link to this page (copy/paste):