Towers Tours And Flamenco In Sevilla Andalusia Spain
Cheating a little today by taking a half day bus tour we finish shooting sunset and dusk at the Torre del Oro then hunt down a Flamenco Bar for an evening of entertainment.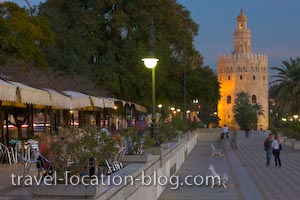 Picture of the Torre del Oro and a street cafe
in the city of Sevilla, Andalusia, Spain.
January 29, 2008:
Torre del Oro (Tower of Gold) which also houses the Museo Maritimo (Naval Museum) and an outdoor cafe along Paseo Alcalde Marques del Contadero at dusk, El Arenal District, City of Sevilla (Seville), Province of Sevilla, Andalusia (Andalucia), Spain, Europe.
More info about our travels coming soon ...
These travel blog entries related to Towers Tours And Flamenco In Sevilla Andalusia Spain may interest you too:
Title:
Towers Tours And Flamenco In Sevilla Andalusia Spain
Cheating a little today by taking a half day bus tour we finish shooting sunset and dusk at the Torre del Oro then hunt down a Flamenco Bar for an evening of entertainment.
Author:
travel-location-blog.com
Date:
eur_22v_3866
Newest travel blog entries:
Press "Ctrl+D" to bookmark this page.
Please use this Code to link to this page (copy/paste):