Union Station Monument Downtown Toronto Ontario
Picture of the multiculturalism monument located outside Union Station in downtown Toronto, Ontario, Canada.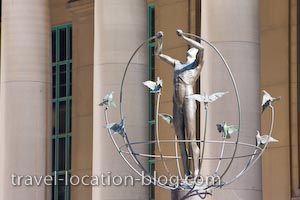 Picture of the Monument to Multiculturalism
outside Union Station in Toronto, Ontario, Canada.
April 24, 2008:
Wandering the streets of Toronto during the day is the best way to discover the city's highlights.
Architecture both old and new, monuments and sculptures, galleries, museums, and waterfront parks are just a few of the must see attractions in this great metropolis.
Union Station is situated at the heart of Toronto and is a hive of activity especially during the peak commuter times. Here you have two features: the architecture of the building itself and the monument to multiculturalism in Toronto and throughout Canada.
These travel blog entries related to Union Station Monument Downtown Toronto Ontario may interest you too:
Title:
Union Station Monument Downtown Toronto Ontario
Picture of the multiculturalism monument located outside Union Station in downtown Toronto, Ontario, Canada.
Author:
travel-location-blog.com
Date:
cdn_22v_10244
Newest travel blog entries:
Press "Ctrl+D" to bookmark this page.
Please use this Code to link to this page (copy/paste):