West Coast Surf Beaches And Gannet Colony
Driving through the Surfing town of Raglan to the restless Gannet Colony of Muriwai Beach.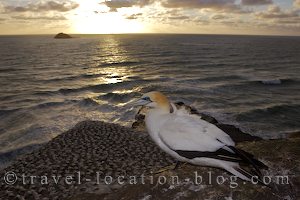 Photo of a Gannet at Muriwai
Beach at Sunset.
Although today was mostly about driving to as close to Auckland as possible since we had appointments the following day, we stopped off for a couple of must sees en-route.
One such sight was of the Bridal Veil Falls at a height of 55 metres. The initial easy 10 minute track lead us through the bush to the top of the falls. From there the trail to the base of the falls provided a good work out for us. The descent is via a stepped track basically straight up or down, but it's worth the effort.
Moving on and only a short distance away was the town site of Raglan - a real surfin' community!! The crowds were crazy no matter where we went at this location but apparently the surfing is some of the best!
We soon left Raglan and made a beeline for Auckland - Michelle's old stomping ground (for nearly 15 years). Our destination was to the west of Auckland - Muriwai Beach which is a great leisure beach for swimming and surfing but is also the site of an important Gannet Colony. We arrived in time for sunset and some close encounters with these interesting and boisterous creatures!
These travel blog entries related to West Coast Surf Beaches And Gannet Colony may interest you too:
Title:
West Coast Surf Beaches And Gannet Colony
Driving through the Surfing town of Raglan to the restless Gannet Colony of Muriwai Beach.
Author:
Michelle Coats
Date:
03.01.07 - nzk3s9408 West Coast Surf Beaches and Gannet Colo
Newest travel blog entries:
Press "Ctrl+D" to bookmark this page.
Please use this Code to link to this page (copy/paste):