Yellow Eyed Penguin Species
The Yellow Eyed Penguin is one of the rarest species of penguin in the world and is found in New Zealand.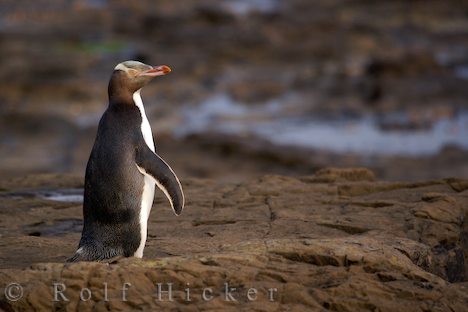 Photo of a yellow eyed Penguin, a species found only
in New Zealand and some Sub-Antarctic Islands.

Yellow Eyed Penguin, Megadyptes antipodes (Endangered) in the Catlins Forest at the Petrified Forest at Porpoise Bay and Curio Bay, Southland, South Island, New Zealand.
These travel blog entries related to Yellow Eyed Penguin Species may interest you too:
Title:
Yellow Eyed Penguin Species
The Yellow Eyed Penguin is one of the rarest species of penguin in the world and is found in New Zealand.
Author:
Rolf Hicker Photography
Date:
nzk3s6749 Yellow Eyed Penguin Species
The scientific name for the picture Yellow Eyed Penguin Species is:
Megadyptes antipodes
Newest travel blog entries:
Press "Ctrl+D" to bookmark this page.
Please use this Code to link to this page (copy/paste):