Yellow Torch Lilies
There are a number of varieties of Torch Lilies including the yellow Primrose Beauty.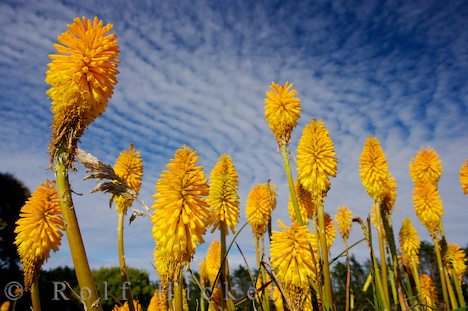 Picture of bright yellow Torch Lilies found along the
Catlins Highway in Southland, New Zealand.

Torch Lily - Primrose Beauty, Kniphofia uvaria, Catlins, Catlins Highway, Southern Scenic Route, Southland, South Island, New Zealand.
These travel blog entries related to Yellow Torch Lilies may interest you too:
Title:
Yellow Torch Lilies
There are a number of varieties of Torch Lilies including the yellow Primrose Beauty.
Author:
Rolf Hicker Photography
Date:
nzk3s15413 Yellow Torch Lilies
The scientific name for the picture Yellow Torch Lilies is:
Kniphofia uvaria
Newest travel blog entries:
Press "Ctrl+D" to bookmark this page.
Please use this Code to link to this page (copy/paste):