A Shipwreck In Bird Cove Hudson Bay Canada
The snow finally arrived but not a polar bear in sight only a shipwreck in Bird Cove on the shores of Hudson Bay, Canada.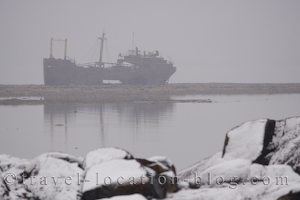 Picture of the M/V Ithaca wreck on the rocky
spit in Bird Cove, Hudson Bay, Canada.
October 25, 2007:
We woke to a snow covered wonderland as hoped and were excited to get out to see the bears, perhaps the cold snap would get the bears moving.
After our usual morning routine of breakfast and computer work, we got dressed in our heavy duty winter clothing and headed out. Once out in the wildlife management area we started scanning the tundra for polar bears and any signs of life. We thought it was difficult to spot the polar bears on the brown tundra with its white rocks but in the snow it's even more difficult.
We saw one of the polar bears from yesterday but he was curled up sleeping next to a pond some distance off and was motionless! Besides our old friend we didn't have much success - no more polar bears, no ptarmigans, no foxes - nothing! They were hiding out or sleeping some more. This is where wildlife photography gets really frustrating!
We spent the day in the Cape Churchill Wildlife Management area near the shores of Bird Cove. In 1961 the MV Ithaca was beached on a rocky spit which extends out into Bird Cove and now all that remains is its rusting hull. We understand that it was high winds and currents that ran her aground!
A few flurries swept through during the day and the temperature took a big dip and by the end of the day cold was all we got for our efforts. We packed it up by around 3:00pm and headed back to town for a warm up and dinner. It was a somewhat frustrating day - hopefully tomorrow would be a better day!
These travel blog entries related to A Shipwreck In Bird Cove Hudson Bay Canada may interest you too:
Title:
A Shipwreck In Bird Cove Hudson Bay Canada
The snow finally arrived but not a polar bear in sight only a shipwreck in Bird Cove on the shores of Hudson Bay, Canada.
Author:
Michelle Coats
Date:
cdn_k3s34072
Newest travel blog entries:
Press "Ctrl+D" to bookmark this page.
Please use this Code to link to this page (copy/paste):