Aerial Picture Seville Andalusia Spain
Aerial picture of a the view over Seville as seen from the La Giralda bell tower and the Seville Cathedral.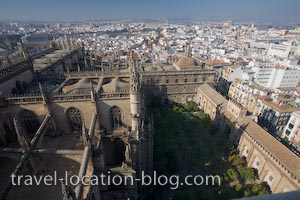 Aerial photo of Seville City and the cathedral
as seen from La Giralda.
January 29, 2008:
View of the Seville Cathedral rooftops and the Patio de los Naranjos (Patio of the Oranges) from La Giralda (bell tower/minaret), a UNESCO World Heritage Site, Santa Cruz District, City of Sevilla (Seville), Province of Sevilla, Andalusia (Andalucia), Spain, Europe.
These travel blog entries related to Aerial Picture Seville Andalusia Spain may interest you too:
Title:
Aerial Picture Seville Andalusia Spain
Aerial picture of a the view over Seville as seen from the La Giralda bell tower and the Seville Cathedral.
Author:
travel-location-blog.com
Date:
eur_22v_3573
Newest travel blog entries:
Press "Ctrl+D" to bookmark this page.
Please use this Code to link to this page (copy/paste):