Air Tractor AT802 Red Lake
Picture of the bright yellow Air Tractor AT802 and it's chief pilot Guy Cannon at the Red Lake Airport, Ontario, Canada.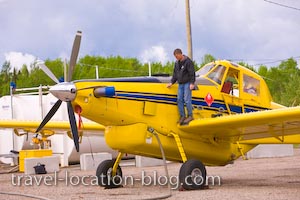 Photo of Guy Cannon doing pre-flight checks
on the Air Tractor AT802 at Red Lake Airport.
June 14, 2008:
With fuel levels low in Sandy Lake in the north of Ontario, Guy Cannon makes preparations for a departure in the airplane Air Tractor AT802 from Red Lake to deliver diesel fuel.
These travel blog entries related to Air Tractor AT802 Red Lake may interest you too:
Title:
Air Tractor AT802 Red Lake
Picture of the bright yellow Air Tractor AT802 and it's chief pilot Guy Cannon at the Red Lake Airport, Ontario, Canada.
Author:
travel-location-blog.com
Date:
cdn_22v_16897
Newest travel blog entries:
Press "Ctrl+D" to bookmark this page.
Please use this Code to link to this page (copy/paste):