Ambling About In Ontario Canada
Bad weather blues today on the eve of picking up our camper in the city of Barrie, Ontario, Canada.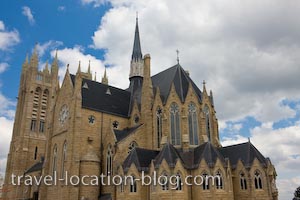 Picture of Our Lady of the Immaculate church
in the town of Guelph, Ontario, Canada.
April 29, 2008:
A short entry today as we drove from Ottawa to Kitchener, Guelph, and back up to Barrie.
With rain threatening near Ottawa and all the way down to Kingston, the photo opportunities were limited, so we made a beeline for the other side of Toronto - the city of Kitchener. Our original plan was to visit the famous St Jacobs Market but unfortunately we were to learn that it didn't operate on a Tuesday. Instead we visited a few historic sites such as the Joseph Schneider Haus, and the Woodside National Historic Site in Kitchener then drove to the town of Guelph
In the end we just decided to head north again and turned the wheels towards the city of Barrie. We checked in at the Best Western hotel near the highway then headed out to Montana's for dinner. Tomorrow we'll pick up the camper and return the rental car to Toronto Airport where we picked it up. That should be an excellent challenge for Rolf - driving the camper into the airport - meanwhile I'll drop the rental car and we'll see if we can meet up.
These travel blog entries related to Ambling About In Ontario Canada may interest you too:
Title:
Ambling About In Ontario Canada
Bad weather blues today on the eve of picking up our camper in the city of Barrie, Ontario, Canada.
Author:
Michelle Coats
Date:
cdn_22v_11569
Newest travel blog entries:
Press "Ctrl+D" to bookmark this page.
Please use this Code to link to this page (copy/paste):