Another Day At Rifflin Hitch Lodge Labrador
A full day of activity lined up during our stay at Rifflin'Hitch Lodge in Southern Labrador, Canada.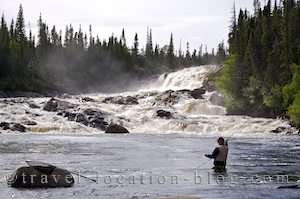 Photo of a fisherman fishing at White Bear River
Falls in Southern Labrador, Canada.
July 3, 2007
With the toll of the breakfast bell we were soon hovering around the Eggs Benedict breakfast to photograph the various stages of assembly and then the final masterpiece. The best part was eating it though!!
Today was predominantly set aside for additional photographing of the lodge such as their guides fishing from a boat, macro photography of fishing gear, crafts on display and for sale at the lodge, and table settings just to name a few things.
Rolf took to the air with Darin again to be flown out to White Bear River Falls for additional photography of the fishermen there - nothing like a challenge since it was to be a repeat of yesterday!!
There were certainly more evening shots to be taken before turning in for the night. The lodge is run on generator which is turned off sometime between 11pm and 12midnight and switched on again early in the morning and for this reason it is a good idea to be already in bed by the time the generator is turned off. Handheld torches are provided for those who get the urge for a wander during the night.
These travel blog entries related to Another Day At Rifflin Hitch Lodge Labrador may interest you too:
Title:
Another Day At Rifflin Hitch Lodge Labrador
A full day of activity lined up during our stay at Rifflin'Hitch Lodge in Southern Labrador, Canada.
Author:
Michelle Coats
Date:
cdn_k3s21464
Newest travel blog entries:
Press "Ctrl+D" to bookmark this page.
Please use this Code to link to this page (copy/paste):