Bavarian Traditional Ceremony Putzbrunn
The Maibaumfest is an annual traditional Bavarian ceremony in Putzbrunn, Germany, Europe.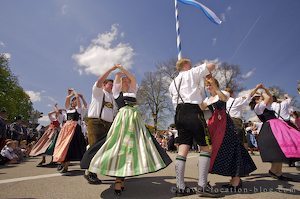 Photo of dancing at the traditional Maibaumfest
ceremony in Putzbrunn.
To wind up the tree raising ceremony, there is a dance around the Maibaum which is preceded by the appearance of many local traditional clubs such as the "Schuetzenverein" as well as traditional music groups and volunteer fire fighters just to name a few.
The locals then gather in a large beer tent to socialize, enjoy good music, dancing and beer served from big wooden barrels until the wee hours of the morning.
Whenever visiting Bavaria on May 1st, be sure to visit one of the May Tree festivals - we can recommend Putzbrunn as a great place to experience a real Bavarian traditional ceremony.
These travel blog entries related to Bavarian Traditional Ceremony Putzbrunn may interest you too:
Title:
Bavarian Traditional Ceremony Putzbrunn
The Maibaumfest is an annual traditional Bavarian ceremony in Putzbrunn, Germany, Europe.
Author:
Michelle Coats
Date:
01.05.06 - Bavarian Traditional Ceremony Putzbrunn w5151
Newest travel blog entries:
Press "Ctrl+D" to bookmark this page.
Please use this Code to link to this page (copy/paste):