Caves In The Village Of Guadix Andalusia Spain
White washed cave dwellings dot the hillside in the town of Guadix in Andalusia Spain.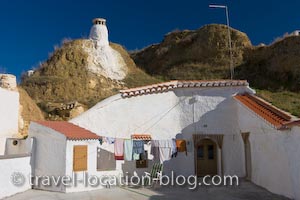 Picture of a cave dwelling in the town of Guadix in
the province of Granada, Andalusia, Spain.
January 22, 2008:
Cave dwellings in the village of Guadix, Andalusia (Andalucia), Spain, Europe.
More info about our travels coming soon ...
These travel blog entries related to Caves In The Village Of Guadix Andalusia Spain may interest you too:
Title:
Caves In The Village Of Guadix Andalusia Spain
White washed cave dwellings dot the hillside in the town of Guadix in Andalusia Spain.
Author:
© travel-location-blog.com
Date:
eur_22v_1914
Newest travel blog entries:
Press "Ctrl+D" to bookmark this page.
Please use this Code to link to this page (copy/paste):