Christmas Market Decorations Hexenagger Bavaria Germany
Many unique gifts and decorations can be found at the annual Christmas market held at the Hexenagger Castle in Bavaria, Germany.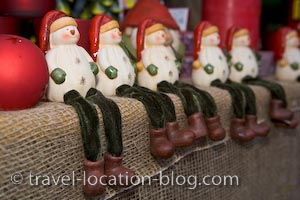 Picture of cute snow man decorations at the Hexenagger
Castle christmas markets in Bavaria, Germany.
December 15, 2007:
From our collection of pictures from our visit to the Christmas Markets (Weihnachtsmarkt) at the Schloss Hexenagger (castle/palace), Bavaria, Germany.
Christmas ornaments at the Christmas Markets at the Hexenagger Castle, Hexenagger, Bavaria, Germany, Europe.
These travel blog entries related to Christmas Market Decorations Hexenagger Bavaria Germany may interest you too:
Title:
Christmas Market Decorations Hexenagger Bavaria Germany
Many unique gifts and decorations can be found at the annual Christmas market held at the Hexenagger Castle in Bavaria, Germany.
Author:
Rolf Hicker Photography
Date:
eur_k3s36997
Newest travel blog entries:
Press "Ctrl+D" to bookmark this page.
Please use this Code to link to this page (copy/paste):