Flowerpots Of Flowerpot Island Fathom Five Marine Park Ontario
A trip to Flowerpot Island brings us face to face with two natural rock stacks - proof of the erosive powers of Lake Huron in the Fathom Five National Marine Park.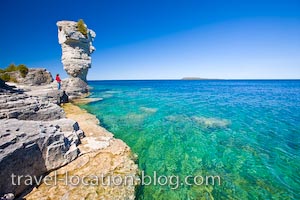 Picture of a flowerpot on Flowerpot Island
in the Fathom Five National Marine Park.
May 24, 2008:
The boat trip to Flowerpot Island includes a brief tour of the area by water including floating over a couple of shipwrecks in Big Tub Harbour, and cruising the coastline of several islands. The glass bottom boat is just the ticket for this kind of cruising and sightseeing as you get a really good look at what lies beneath (there were no signs of Nessie's cousin though)!
Soon we were approaching Flowerpot Island. Just off shore, we were met by a zodiac which would shuttle us to the island - this is because of low water in Lake Huron/Georgian Bay, something that's really hard to imagine in such a large lake! With our feet firmly on the island, we set off towards the interesting formations along the shoreline - there are two natural rock stacks called Flowerpots which have been formed through erosion. They look a lot like brick chimneys, the way the layers of soft rock have been eroded away leaving the appearance of bricks on the outer surface.
Continuing on, we checked out the nearby sea cave. We had to climb up stairs to reach it since it's actually high and dry - except for the water dripping through the ceiling of the cave. The cave was created more than 5,000 years ago from wave action on Lake Nipissing (an ancestor of today's great lakes).
Ten minutes further on, we came to the Flowerpot Island light station and viewing deck which afforded a stupendous view over Lake Huron and some islands of the Fathom Five National Marine Park.
Checking our watches - we realised that the 90 minutes we had to explore the island were nearly up, so we hurried back to the dock for the ride back to the Great Blue Heron then back to Tobermory.
Once back on dry land, we decided to check out Cabot Head Lighthouse for a possible sunset shot. The road was very narrow and a little dodgy in places - especially in our camper, and although it's a historic lighthouse in a pretty setting, there wasn't really too much opportunity for sunset - especially when the clouds rolled in.
These travel blog entries related to Flowerpots Of Flowerpot Island Fathom Five Marine Park Ontario may interest you too:
Title:
Flowerpots Of Flowerpot Island Fathom Five Marine Park Ontario
A trip to Flowerpot Island brings us face to face with two natural rock stacks - proof of the erosive powers of Lake Huron in the Fathom Five National Marine Park.
Author:
Michelle Coats
Date:
cdn_22v_13498
Newest travel blog entries:
Press "Ctrl+D" to bookmark this page.
Please use this Code to link to this page (copy/paste):