Historic City Centre Of Siena In The Tuscany Italy
The epitome of a medieval city, the historic town centre of Siena in the Tuscany, Italy has many gothic style buildings which date back to the 12th and 15th centuries.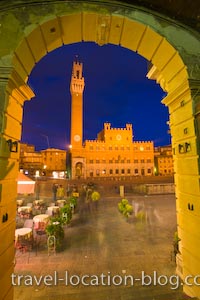 Picture of an archway leading to the
Piazza del Campo, Siena, Tuscan.
April 6, 2008:
Torre del Mangia (bell tower) and Palazzo Pubblico (Town Hall) in Piazza del Campo in the historic old town district at dusk in the City of Siena, a UNESCO World Heritage Site, Province of Siena, Region of Tuscany, Italy, Europe.
The following 5 pictures are taken during the day (April 6th) as we explored the Tuscany. More information about our travels in Italy coming soon ..
These travel blog entries related to Historic City Centre Of Siena In The Tuscany Italy may interest you too:
Title:
Historic City Centre Of Siena In The Tuscany Italy
The epitome of a medieval city, the historic town centre of Siena in the Tuscany, Italy has many gothic style buildings which date back to the 12th and 15th centuries.
Author:
travel-location-blog.com
Date:
eur_22v_6901
Newest travel blog entries:
Press "Ctrl+D" to bookmark this page.
Please use this Code to link to this page (copy/paste):