Karlstein Czech Republic
The Castle of Karlstein in the Czech Republic, Europe.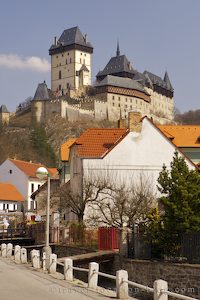 Photo of the Karlstein Castle
in Bohemia, Czech Republic.
After a hearty breakfast, we set off in search of the famous Karlstein Castle in the picturesque valley of the River Berounka, and a short drive from the village of Morinka.
The castle is hard to miss as it towers above the village of Karlstein with its cobbled lanes lined by souvenir stalls selling beautiful Bohemian Glass art, Pilsner Urquell beer gift sets, and a variety of other wares. The streets were bustling with people, surprising since itís not the height of the season yet!
The Karlstein Castle is a very impressive sight, unfortunately you have to take a tour to go inside which we couldnít take because we were short on time (as usual).
Leaving Karlstein, we head towards the City of Beroun where we check out the interesting buildings which in a way demonstrate the time lines and phases of the city as well as different political rulers. The city of Beroun has some interesting old structures such as a medieval entrance tower which has been restored to its former glory.
Soon we head off in the direction of our ultimate destination ... Prague!
These travel blog entries related to Karlstein Czech Republic may interest you too:
Title:
Karlstein Czech Republic
The Castle of Karlstein in the Czech Republic, Europe.
Author:
Michelle Coats
Date:
19.04.06 - Karlstein Czech Republic w3009
Newest travel blog entries:
Press "Ctrl+D" to bookmark this page.
Please use this Code to link to this page (copy/paste):