Marshlands And Waterfalls Of Labrador Canada
A journey from "The Rock" to the diverse landscape of marshlands, waterfalls, and mountains of Southern Labrador, Canada.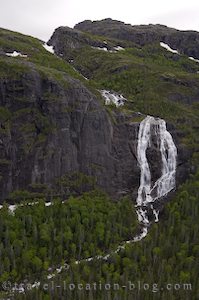 Photo of Tucked Away Falls
in the Mealy Mountains, Labrador.
July 1, 2007:
Another month has rolled around which means we've been on "The Rock" for a whole month, it wasn't our initial plan but it just worked out that way - not that we're complaining .... in the slightest!
This morning was an early one ... we had to be up at an ungodly 7:00am after only getting to sleep around 12:30am. We had breakfast at 8:00am and by 10:45am we'd finished packing and were saying our goodbyes - at least for a few days! Our destination was Eagle River in Labrador.
Randy from Tuckamore Lodge drove us to the St Anthony airport where after an hours wait we proceeded through all the security necessities for boarding a domestic flight these days and where Rolf was found to have a lighter in his pack. Instead of the lighter being confiscated though, it was returned to him in a small plastic bag which even the security folk had no clue what good that was meant to be??
Soon, we were winging our way to Goose Bay in Labrador via Blanc Sablon in Quebec. Once on the ground in Goose Bay, we met with our contact from Rifflin' Hitch Lodge who introduced us to Darin Silver the pilot of the 6 passenger Bell 427 helicopter who would transport us over the Mealy Mountains to the Lodge itself on the banks of Eagle River. From Goose Bay the adventure really begun. Soon after leaving Goose Bay airport, we were flying above the diverse landscape of Labrador's wilderness, and skirting the shores of Lake Melville.
As we drew closer to the Mealy Mountain Range, the landscape changed and the bogs below were like large and random stencil shapes, stamped out by the hand of a giant then filled with water. The large expanses of marshy land are the perfect grazing place for many of the wildlife species of the area including mammals such as caribou, moose, black bears. In the space of 10-15 minutes we'd spotted a large black bear and a caribou stag.
As we gained altitude to pass over the Mealy Mountains, the landscape below changed again ... exposed rocks smoothed over by glaciers, interspersed with alpine forest and small lakes. Then we were shown three stunningly beautiful waterfalls - officially unnamed. As we approached the first one, Darin our pilot was explaining this pretty waterfall which had no-name but was tucked around a corner and not often seen by people flying over the Mealy Mountains - so I named it Tucked Away Falls. The next two were also un-named and since I was on a "roll" decided to call them Rifflin Falls, and Hitch Falls. These three must be some of the most picturesque in Labrador!
We finally arrived at Eagle River on the banks of which lies Rifflin'Hitch Lodge - our destination for the next few days.
After settling in we went straight to work, photographing the delightful gourmet food Chef Nancy Elliot produces each day for lodge guests which is then served by the attentive hospitality staff. Afterwards, we acquainted ourselves with the surroundings of the lodge and scouted for photo opportunities. Then before turning in for the night and since it was Canada Day, we watched the pretty fireworks display which was set up across the river on an island by the fishing guides.
These travel blog entries related to Marshlands And Waterfalls Of Labrador Canada may interest you too:
Title:
Marshlands And Waterfalls Of Labrador Canada
A journey from "The Rock" to the diverse landscape of marshlands, waterfalls, and mountains of Southern Labrador, Canada.
Author:
Michelle Coats
Date:
cdn_k3s19752
Newest travel blog entries:
Press "Ctrl+D" to bookmark this page.
Please use this Code to link to this page (copy/paste):