Waterfalls And Formations Of The Waikato
An outdoor lovers paradise, the Waikato offers caves, waterfalls, and surfing.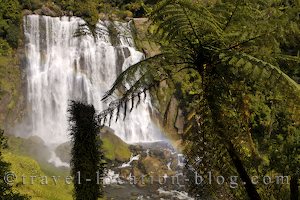 Photo of Marokopa Falls in the
Waikato, New Zealand.
We made a quick stop at the Sheep Shearing Capital of the World, Te Kuiti before merging with another kind of "sheep" - tourists, into the famous Waitomo Caves.
Tourism seems to have flourished in the North Island particularly of New Zealand, with nearly every major tourist attraction overflowing with visitors to an almost unsavoury point!!
On arrival into Waitomo, we booked in for a tour of the Aranui Cave which allows photography of the Stalagmites and stalactites in its caverns. Waitomo also has glow-worm caves where you can float through the damp caverns in a boat to see them. There are operators who offer a number of adventure trips such as Black Water Rafting or tubing in the extensive cave system of the area. Our tour guide leads the group through massive caverns and narrow gaps explaining the forces of nature which created them along with Maori mythology.
An interesting place, but far too many visitors for our comfort, so after the tour and a trek along the Ruakuri Bushwalk, we drove out of Waitomo to find the Mangapohoe Natural Bridge. The bridge is said to have once been a large cave which has been reduced to a gorge with only one single section of the roof remaining - the rest of the roof would have become unstable and collapsed as the cave slowly grew from within.
Another recommended stop further along the road is the Marokopa Falls, they are about a 10-15 minute walk from the road through the bush and are a rewarding view. The falls look like something out of "Treasure Island" surrounded by ferns and natural bush.
As the day comes to an end we arrive into the village of Kawhia (pronounced Kafia) a popular holiday destination for kiwis and one with virtually no campsites available when we arrived - very busy time of year!
These travel blog entries related to Waterfalls And Formations Of The Waikato may interest you too:
Title:
Waterfalls And Formations Of The Waikato
An outdoor lovers paradise, the Waikato offers caves, waterfalls, and surfing.
Author:
Michelle Coats
Date:
02.01.07 - nzk3s8959 Waterfalls and Formations of the Waikat
Newest travel blog entries:
Press "Ctrl+D" to bookmark this page.
Please use this Code to link to this page (copy/paste):