Oliva Nova On The Costa Blanca Spain
A resort town situated along the balmy shores of the Costa Blanca aka White Coast of the Mediterranean Sea, Oliva Nova is our base for the next six and a half weeks in Spain.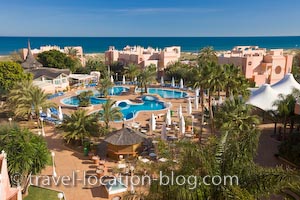 Picture of the Costa Blanca (white coast) of the
Mediterranean Sea from the resort in Oliva Nova, Spain.
December 28, 2007 - February 13, 2008:
For a little over 6 weeks from December 28, 2007, we spent time in the resort town of Oliva Nova along the Costa Blanca or White Coast of the Mediterranean Sea in Spain. While staying In Oliva Nova we mostly worked indoors - catching up with aspects of the photography business besides being out shooting. We had travelled to Spain with our large computer monitors, hard-drives, and of course our laptops - so we had a lot of work planned!
We also spent around two weeks (Jan 19 - Feb 4, 2008) travelling to and around the Andalusia region in southern Spain.
The following are the pictures from that trip. Our actual travelling experiences will be filled in at a later date but this at least gives you an idea of what we were doing during our time in Spain through pictures.
These travel blog entries related to Oliva Nova On The Costa Blanca Spain may interest you too:
Title:
Oliva Nova On The Costa Blanca Spain
A resort town situated along the balmy shores of the Costa Blanca aka White Coast of the Mediterranean Sea, Oliva Nova is our base for the next six and a half weeks in Spain.
Author:
Michelle Coats
Date:
eur_22v_0521
Newest travel blog entries:
Press "Ctrl+D" to bookmark this page.
Please use this Code to link to this page (copy/paste):