Polar Bear Sow And Cub Hudson Bay Canada
A polar bear cub will stay with a sow until it is weened at around 2-3 years at which stage it is separated from its mother.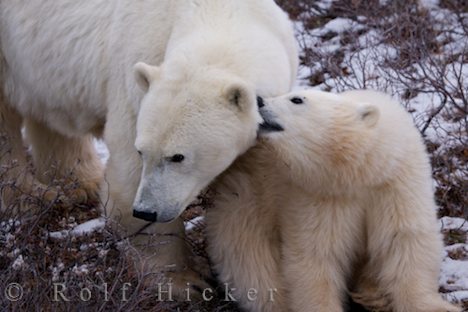 Picture of a polar bear cub playing with its
mother on the tundra near Hudson Bay, Manitoba.

Churchill: October 21 - November 6, 2007.
Polar Bear, Ursus maritimus, sow and cub in the Churchill Wildlife Management Area, Hudson Bay, Churchill, Manitoba, Canada.
These travel blog entries related to Polar Bear Sow And Cub Hudson Bay Canada may interest you too:
Title:
Polar Bear Sow And Cub Hudson Bay Canada
A polar bear cub will stay with a sow until it is weened at around 2-3 years at which stage it is separated from its mother.
Author:
Rolf Hicker Photography
Date:
cdn_k3s35207
The scientific name for the picture Polar Bear Sow And Cub Hudson Bay Canada is:
Ursus maritimus
Newest travel blog entries:
Press "Ctrl+D" to bookmark this page.
Please use this Code to link to this page (copy/paste):