Rock Art On Agawa Bay Beach Lake Superior
Picture of a smooth rock design along the beach in Agawa Bay in the Lake Superior Provincial Park, Ontario, Canada.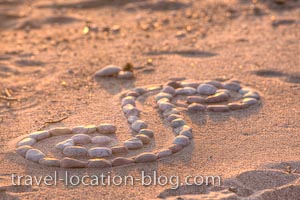 Photo of rock art along the Agawa Bay
beach in Lake Superior Provincial Park.
May 31 - June 4, 2008:
Every so often I get a little urge to do something artistic. Today, the smooth rocks and sandy beach of Agawa Bay along the shores of Lake Superior were the inspiration.
Having been working inside the camper for a couple of days straight, a few sunsets passed us by. However, this one night we got out in time to see the sunset (and fight off the bugs) and had time to create a little design with a South Pacific flair.
These travel blog entries related to Rock Art On Agawa Bay Beach Lake Superior may interest you too:
Title:
Rock Art On Agawa Bay Beach Lake Superior
Picture of a smooth rock design along the beach in Agawa Bay in the Lake Superior Provincial Park, Ontario, Canada.
Author:
travel-location-blog.com
Date:
cdn_22v_14785_86_87_88_89_90_91_tonemapped
Newest travel blog entries:
Press "Ctrl+D" to bookmark this page.
Please use this Code to link to this page (copy/paste):