Romantic Sunset Killarney Provincial Park Ontario
Picture taken during one of the evenings we spent enjoying a romantic sunset over George Lake in Killarney Provincial Park, Ontario, Canada.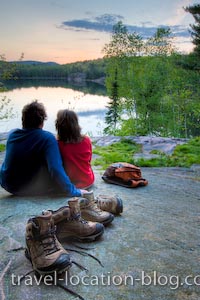 Photo of Rolf and Michelle looking
out over George Lake at Sunset.
May 28 & 29, 2008:
Besides the nasty biting flies, Rolf and I enjoyed our evenings at Killarney Provincial Park by watching the sun set over George Lake. The weather had been perfect - still fresh but the days were sunny so the evenings were spectacular!
With George Lake looking more like a mill pond, the sunset reflections on its surface were outstanding especially fringed by the lush forest and prominent rocky outcrops along the lake's shoreline.
These travel blog entries related to Romantic Sunset Killarney Provincial Park Ontario may interest you too:
Title:
Romantic Sunset Killarney Provincial Park Ontario
Picture taken during one of the evenings we spent enjoying a romantic sunset over George Lake in Killarney Provincial Park, Ontario, Canada.
Author:
travel-location-blog.com
Date:
cdn_22v_14330_1_2_3_4_5_6_tonemapped
Newest travel blog entries:
Press "Ctrl+D" to bookmark this page.
Please use this Code to link to this page (copy/paste):