Scouting In The City Of Winnipeg Manitoba
After driving most of the day yesterday, we took a leisurely drive into Winnipeg to get orientated, then took a stroll around the Manitoba Legislative Building and its manicured grounds.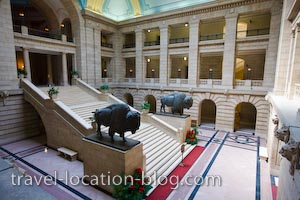 Picture of two bison statues at the base of the Grand
Staircase in the Manitoba Legislative Building, Winnipeg.
June 18, 2008:
We drove into the city, happily without the camper on the back as the roads around Winnipeg are extremely rough. Our first stop was the Manitoba Legislative Building which was completed in 1920.
Security took our ID at the front desk and issued us with visitor tags - this allowed us access to explore a little of the interior of the large building.
Two large bison statues stand guard at the base of the grand staircase just beyond the security desk. The staircase, which is crafted from the finest marble in the world and comes from Carrara in the Tuscany, Italy led us to the antechamber which is situated below the dome rotunda. This dimly lit antechamber, which is the formal entrance to the Legislative chamber, is punctuated by eight Corinthian style columns and the dome above is designed along a neoclassical style. It sure is a beautiful building which seems to feature a variety of architectural styles.
Once we'd viewed as much as we were allowed, we headed outdoors to the beautifully manicured grounds. Statues of those who helped shape Canada into what it is today are scattered around the grounds and a collection of polar bear statues line the back streets nearby - they are a part of the "Bears on Broadway" program which commemorates the 75th anniversary of CancerCare Manitoba.
These travel blog entries related to Scouting In The City Of Winnipeg Manitoba may interest you too:
Title:
Scouting In The City Of Winnipeg Manitoba
After driving most of the day yesterday, we took a leisurely drive into Winnipeg to get orientated, then took a stroll around the Manitoba Legislative Building and its manicured grounds.
Author:
Michelle Coats
Date:
cdn_22v_17330
Newest travel blog entries:
Press "Ctrl+D" to bookmark this page.
Please use this Code to link to this page (copy/paste):