Valencia Spain Ciutat De Les Arts
Valencia in Spain before the Americas Cup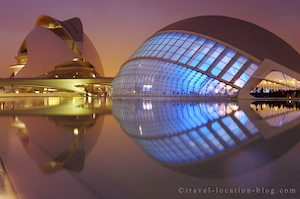 Picture of the Ciutat de les Arts in
Valencia, Spain, Europe.
May 18, 2006:
After scouting the city of Valencia in Spain on Monday, we headed back this afternoon for a "blue hour" shot. We found our way to the Ciutat de les Arts complex (not too far away from where the Americas Cup Challenge 2007 will be held) which is where we planned the photo shoot and found some parking nearby! The only challenge was that the parking was only open until 9pm and we would need to park at least until 10 - 10:30pm, so we'd need to move the car a little later.
We set out first to the Aquarium with its network of underground / underwater tunnels that you can walk through plus a large selection of birds, and marine mammals on the surfaces pools.
We move over to the La Ciutat De Les Arts complex where the L'Hemisferic (which houses an Imax theatre) and Palau de les Arts Reina Sofia are situated and get ourselves into position for the blue light, even though it began to rain!! (I guess that is photographers "luck). Just when we thought any chance of blue was out of the question - because of haze and rain the sky turned bright red. We were glad that we stayed the extra time because suddenly it stopped raining for a few minutes, and the reflections became perfect. We got incredible images within this 5 minute window we had available, great colors and great reflections. (more later) Because we are so busy travelling right now, we will update the blog with the missing dates as soon as we possibly can.
These travel blog entries related to Valencia Spain Ciutat De Les Arts may interest you too:
Title:
Valencia Spain Ciutat De Les Arts
Valencia in Spain before the Americas Cup
Author:
Michelle Coats
Date:
18.05.06 - Valencia Spain Ciutat De Les Arts w9587
Newest travel blog entries:
Press "Ctrl+D" to bookmark this page.
Please use this Code to link to this page (copy/paste):