Winding Roads Of The Tuscan Landscape And City Towers
We'd had our fill of cities for a bit so headed into the beautiful Tuscan landscape along cypress lined winding roads before ending the day in San Gimignano at dusk.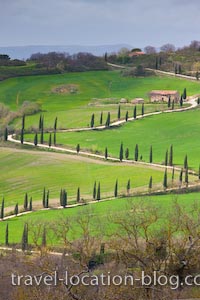 Picture of a remote winding road
set in the Tuscan landscape of Italy.
April 11, 2008:
Zigzagging road lined by Cypress trees in the Tuscan landscape, Province of Siena, Region of Tuscany, Italy, Europe.
More info about our travels in Italy coming soon ...
These travel blog entries related to Winding Roads Of The Tuscan Landscape And City Towers may interest you too:
Title:
Winding Roads Of The Tuscan Landscape And City Towers
We'd had our fill of cities for a bit so headed into the beautiful Tuscan landscape along cypress lined winding roads before ending the day in San Gimignano at dusk.
Author:
travel-location-blog.com
Date:
eur_22v_8779
Newest travel blog entries:
Press "Ctrl+D" to bookmark this page.
Please use this Code to link to this page (copy/paste):